Chris Brady, District Superintendent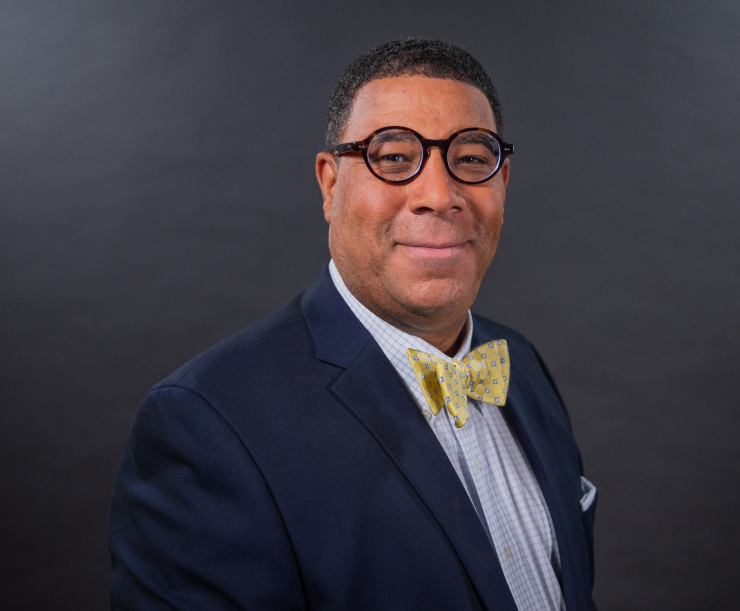 Chris L. Brady was born and raised in Philadelphia, Pennsylvania and is a seventh generation Methodist.
He has served in various pastoral roles in diverse and multi-ethnic congregations in Philadelphia and Chester, Pennsylvania; Hattiesburg, Mississippi; Durham and Raleigh, North Carolina, and has planted a new faith community. In addition to the local church, he has served as Director of Youth and Young Adult Ministries for the Eastern PA Annual Conference of the UMC; Special Assistant to the Dean of Duke Divinity School in the area of faith-based institutional leadership development; and Director of Student Life & Formation at Duke Divinity.
Chris has completed studies in pastoral practice and theology (Duke University, M.Div., Th.M.), clinical social work with a specialization in medical settings (University of Louisville, M.S.S.W) and family and marriage therapy (Eastern University, Ph.D. '21'). He lectures in the area of pastoral care theology, pastoral counseling, depression and faith in communities of diverse racial identities, implicit bias, cultural humility, diversity and equity. In addition, he has provided volunteer pastoral counseling and psychotherapy with Alliance Medical Ministry and Duke Medical Center High-Risk Pregnancy in-patient service and out-patient clinic.
Chris is an elected Southeast Jurisdiction Delegate (SEJC 2020). He has served as coaching cadre with the Clergy Coaching Network of Discipleship Ministries of the SBC-21 vitality initiative (GBOD). He serves on the Board of Directors for Alliance Medical Ministry, Louisburg College, and in the past with Methodist Home for Children(NCC). He is a frequent facilitator for the UMW Mission-U courses and teaches Congregational Care for the Board of Higher Education Course of Study (COS) at Duke Divinity.
Prior to entering the ministry full-time, he served honorably in the U.S. Army/Army Reserves as both a Non-Commissioned and Commissioned Officer in the Engineer Corps. In the non-profit world Chris was Director of Community and Economic Development for the YMCA of Metropolitan Philadelphia, directing a city-wide community literacy program, and a microenterprise incubator for women. He has traveled throughout the Middle East and was part of a team who developed a new YMCA in Russia.
Chris is married to Carla Wheaton Brady, M.D., M.H.S., FAASLD, Associate Professor of Medicine, Duke University Medical Center. She is board certified liver transplant, Gastroenterology and Internal Medicine, and publishes research in liver disease and pregnancy in women, woman and minority health care disparities. Dr. Brady serves on the Governance Board for the American Association of the Study of Liver Diseases (AASLD).
Chris and Carla are parents to Christopher and Olivia Grace.
Nancy Martinez, Capital/ Fairway Administrative Assistant to the DS
I am so blessed and excited about serving as the Administrative Assistant for the Capital District! I was born and raised in the Bronx. Since a very young age, I have always enjoyed serving and helping others; therefore, I pursued a career in mental health. After graduating I relocated to Miami, Florida, where I worked as a Social Worker for 17 years at the University of Miami Child Protection Team, where I conducted assessments of children and families due to allegations of child abuse and or neglect. In 2012 my husband, Rev. Rafael Martinez, and I took a leap of faith and relocated to Clayton, North Carolina. Rafael was appointed to a position in a new faith community, then in July of 2021 he was appointed to the Spring Hope Charge and La Estrella Resplandeciente in Nash County.
I gave my life to God when I was a teenager and I have served within the United Methodist Church for over 35 years in many capacities, such as SPRC chair, youth leader, children's choir director, Sunday school teacher, Vacation Bible School Director, Leader of the Women's Ministry and as event planner for the church. I am a Consecrated Stephens Minister and a certified Coach with Passion in Partnership. I am currently offering coaching services to African American UMC Churches participating in the Renew and Connect Retreats and I will be serving as a delegate in this year's Annual Conference. I sincerely consider it a blessing and privilege to serve in these positions and to share God's unconditional love with others.
I have been married to Rafael for 10+ years and have been blessed with two biological children, Valerie Irene and Leuvis Daniel, whom also live in Clayton and two additional children, Liliam and Marcos, by marriage. I am the proud grandmother of four precious grandchildren, who bring the most joy to my life. I greatly enjoy spending time with my family, cooking, reading and traveling.
---
Freda Davis, District Co-Lay Leader
To reach out to Freda: fdavis@nccumc.org
Freda Davis is excited to be a member of the Capital District Co-Lay Leader team. A lifelong Methodist she believes in the blessings of our connectionalism in the United Methodist Church. Along with leadership roles in her local church, Fremont United Methodist Church and district committees, Freda is thankful for various servant-leadership positions in the Heart of Carolina Emmaus Community that have prepared her for this new adventure.
After forty-one years as an elementary teacher and tutor, Freda is looking forward to God's direction in this new phase of full-retirement from public education. For many years she also taught children at FUMC, but in recent years, God taught her that adults are "God's children" as well. Leading the young adult Sunday School class, aptly named S.A.L.T (Sharing and Learning Together) is pure joy for her. The students teach her new perspectives each week.
Freda and her husband, Kim, have enjoyed over forty years of marriage on the family farm outside Fremont where they raised two precious daughters, Farah and Abbi. Now grandchildren are the sunshine on the farm. Freda's next favorite place to enjoy God's creation is the beach at Oak Island, NC. There is nothing like a little "Saltwater Gospel" for listening, recharging and worshiping. Along with being with family and friends, Freda enjoys flower gardening and reading.
It is Freda's prayer to serve and give God glory in whatever direction God leads. As Paul told the the church of Ephesus as well as us, "Now to God who is able to do immeasurably more than all that we ask or imagine, according to God's power that is at work within us, to God be the glory in the church and in Christ Jesus to all generations forever and ever. Amen." (Ephesians 3:20-21)
TBD, District Co-Lay Leader
Marlee Ray, District C4C Coordinator
Dr. Marlee Ray is pleased to assume the role of Congregations 4 Children Coordinator for the Capital District. Marlee is a member of Saint Paul United Methodist Church in Goldsboro, NC where she currently serves as Missions Chair.
Dr. Ray graduated from Meredith College and received graduate degrees in education from NCSU and ECU. She has a Doctorate in Educational Leadership from ECU. Dr. Ray worked in public education for 34 years as a teacher, principal and central administration supervisor in Pitt, Wake and Wayne Counties. She retired as Director of Exceptional Children's Programs for Wayne County in 2007. She then started a second career as Executive Director of WAGES Community Action Agency. Through this agency the community was provided services through Head Start/ Early Head Start, Foster Grandparents, Senior Companions, Weatherization, Self-Sufficiency and Meals on Wheels.
Marlee is now fully retired and is enjoying being able to commit more time to church and community activities. She remains an advocate for the poor and disadvantaged and is a strong believer in local and global missions. She is excited to be a part of C4C at the local and district level and knows that through this program our churches can make a positive difference in the lives of children.