I gazed at the picture of my beautiful 11year-old niece Bella beaming a smile that can melt a thousand hearts wearing her new cheerleading outfit. Nothing unusual about a proud uncle taking pride in his niece, right. Yet, my smile emanates from a place of profound awe. It takes a certain kind of courage to live vulnerable in a world that sees vulnerability as weakness. See, Bella is not your ordinary 11-year-old. She was born with a rare chromosomal disorder that has rendered her long slender body incapable of particular bodily movement. The diagnostic term for Bella's disability is called Emmanuel Syndrome. Bella defies the odds and flourishes, in her own right, as part of a cheerleading team composed of otherly abled, disabled, and abled children who want to cheer, dance, and experience the joy of life.
The Apostle Paul, speaking of his intractable disability, reminds us that in the radically distinct economy of the Christian life, God's power is made perfect in human weakness (2 Corinthians 12:9). It is in weakness that we concretely feel our need for God and each other. When I think of the value of "being" reflected in these "jars of clay," in my remembrance are many people I have known who, in the eyes of the world, would be considered profoundly disabled. Yet, by their character, they had a powerful impact on the lives of others. Foundational to Paul's sentiments is that the Christian community is called to embrace the centrality of covenantal relationships. Rather than pursuing the societal goal of autonomy and self-reliance, Christians are called to live out their lives in a relationship with God and each other.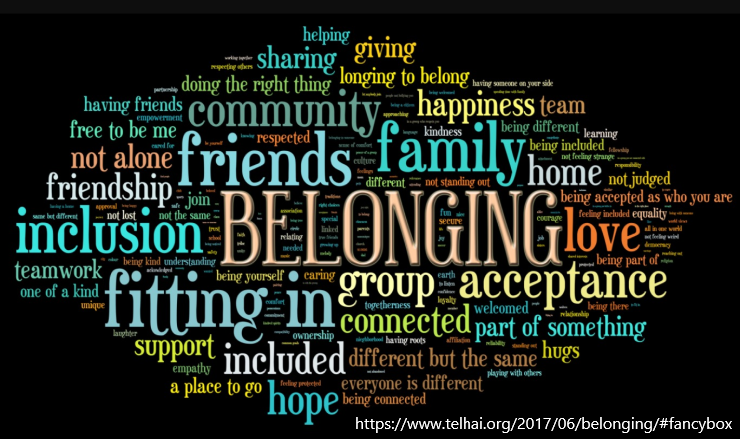 Jesus' mission of redemption and reconciliation is all about helping people to know that they belong to God and that God loves them without end. I am acutely reminded of this as I think about Bella's community of cheerleaders who radically accept everyone. This community has not just embraced but has embedded in its very being the notion that everyone is a gift and brings gifts that enrich the whole.
As we think about hospitality and authentic welcome in our ever-changing neighborhoods and ministry locations, what does it mean for our communities to cultivate a more profound sense of belonging? It is relatively easy to include people: they just need to be there. To include people with disabilities or anyone else, we only need to open a space where they can be in the congregation, right? But a person can very easily be in the congregation and not of it! Inclusion is not enough; people need to belong. To be included, one not only just needs to be there; to belong, one needs to be missed. To belong, others need to long for us to be back among them like the father longed for the return of his prodigal son (Luke 15:11-31)
Full humanity is neither diminished by disability nor confirmed by ability. Instead, it is based on the interdependent relationships we share as creatures loved into being and created in the image of God.
"But we have this treasure in jars of clay to show that this all-surpassing power is from God and not from us"
 (2 Corinthians 4:7, NIV).

---
If you would like to view past editions of The Capital Connection,
follow this link: https://capitaldistrictnc.org/category/from-the-ds/